Product Benefits
Nutritional Facts
Directions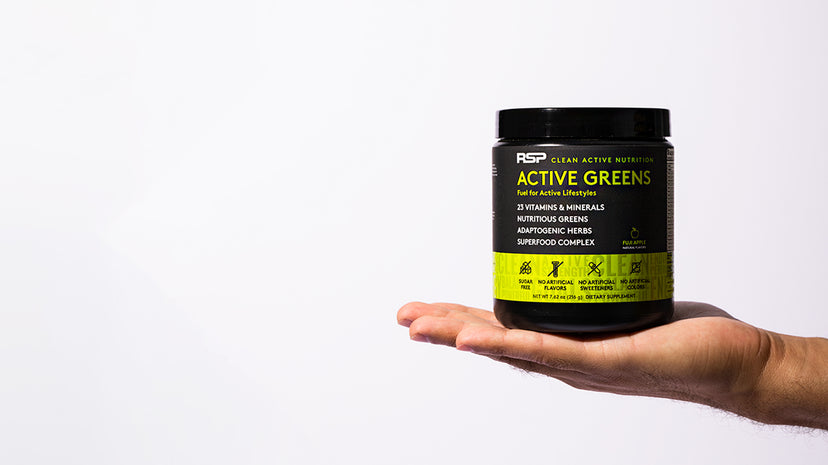 Greens Blend & Superfoods –
Packed with over 40 vitamins, minerals and whole-food sourced nutrients in one convenient daily serving, Active Greens is an easy and delicious way to add more whole food nutrition to your daily health routine.
Comprehensive Nutrition –
Including a Greens Blend for total nutrition, Apple Cider Vinegar for digestion & gut health, Vitamin D & Zinc to boost immunity, Turmeric for inflammation support, electrolytes for hydration and maca for energy
Convenient For Every Body
- Formulated to meet the needs of active men & women, perfect for those simply looking to add more whole food nutrition into the diet and everybody in between – Active Greens
is delicious
solution for every body
Amazing Taste
– Active Greens is naturally flavored & sweetened with a delicious Fuji Apple flavor that is light & fresh to taste, so you can enjoyably add more whole foods nutrition into your diet and support energy levels, digestion and immunity.
Highest Quality Ingredients
- Our premium greens powder is sugar free, low carb, keto-friendly and free from artificial flavors, sweeteners and colors. Each scoop is an easy way to fill any nutritional gaps in your daily routine.
Supplement Facts
Serving Size: 1 Scoop (7g)
Servings Per Container:
Based on 60 serving container:


Amount Per Serving
%DV*
Calories

25



Total Carbohydrates

4g

1%

Dietary Fiber

2g

8%

Total Sugars

<1g



Vitamin A (as beta carotene)

450mcg RAE

50%

Vitamin C (as ascorbic acid)

90mg

100%

Vitamin D3 (as cholecalciferol)

25mcg

125%

Vitamin E (as d-alpha-tocopheryl actate)

15mg

100%

Vitamin K (as phylloquinone [K1])


50mcg

42%

Thiamine (as thiamine hydrochloride)


2mg

166%

Riboflavin


1.75mg

135%

Niacin (as niacinamide)


16mg

100%

Vitamin B6 (as pyridoxine hydrochloride)


5mg

294%

Folate (as folic acid)


400mcg DFE

100%

Vitamin B12 (as cyanocobalamin)


10mcg

417%

Biotin


30mcg

100%

Pantothenic Acid (as calcium d-pantothenate)


5mg

100%

Iodine (as potassium iodide)


75mcg

50%

Zinc (as zinc oxide)


11mg

100%

Selenium (as selenium dioxide)


20mcg

36%

Manganese (as manganese chloride)


1.2mg

52%

Chromium (as chromium chloride)


35mcg

100%

Copper (as copper sulfate)


0.4mg

44%

Molybdenum (as sodium molybdate)


45mcg

100%

Vital Greens Blend
Spirulina Powder, Wheat Grass Powder, Alfalfa Powder, Artichoke Powder, Broccoli Powder, Chlorella Powder, Spinach Powder

3,550mg

**

Natural Energy & Cognition Support Matrix
Lion's Mane (Hericium erinaceus), Maca Extract, Green Tea (Camellia sinensus)(leaf) Extract


650mg

**



Joint & Inflammatory Support Matrix
Turmeric Extract, Ashwagandha (Withania comnifera)(root) Extract, Black Pepper Extract


405mg

**



Natural Digestion Support
Apple Cider Vinegar Powder


300mg

**



Hydration Support Matrix
Aquamin®, Coconut Water Powder


250mg

**



Immune & Vitality Support Matrix
Elderberry Extract, Organic Lemon Juice Powder


233mg

**



* Percent Daily Values are based on a 2,000 calorie diet.
** Daily Value (DV) not established





OTHER INGREDIENTS: Stevia, Natural Flavors
WARNING
ΔTHESE STATEMENTS HAVE NOT BEEN EVALUATED BY THE FOOD AND DRUG ADMINISTRATION. THIS PRODUCT IS NOT INTENDED TO DIAGNOSE, TREAT, CURE, OR PREVENT ANY DISEASE.

DIRECTIONS:
Mix 1 serving (1 scoop) of Active Greens with 8 or more ounces of water, juice or your favorite smoothie anytime throughout the day.