Product Benefits
Nutritional Facts
Directions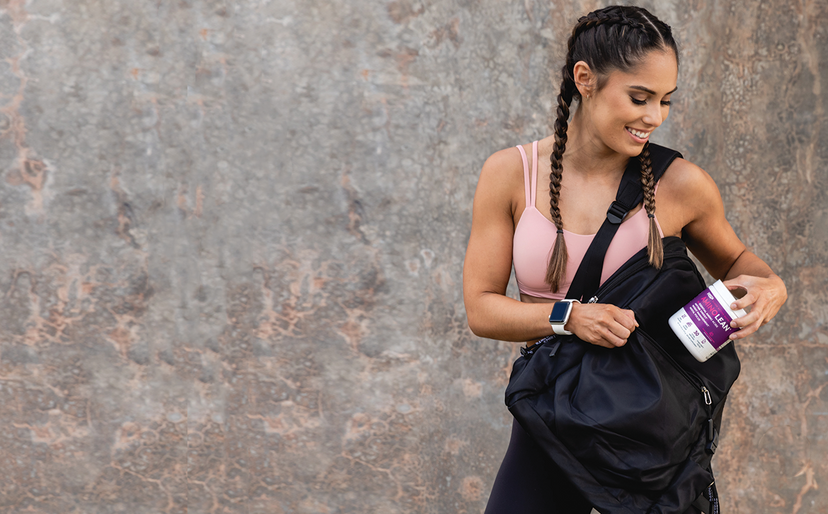 ALL-IN-ONE AMINO ENERGY & NATURAL WEIGHT MANAGEMENT- AminoLean was designed to be the most comprehensive amino acid weight management supplement for men and women available. We combined BCAAs & EAAs with a focus & energy blend and natural weight management ingredients to form the perfect amino energy supplement.
ANYTIME ENERGY AND PERFORMANCE - Each serving of AminoLean contains 125mg of Caffeine from the natural source of Green Tea Extract. It is formulated to take as a Pre Workout powder, Post Workout or anytime for the perfect energy boost without a crash or jitters. You can take 1-3 servings to customize the amount of energy that's right for you
ESSENTIAL AMINO ACIDS FOR MUSCLE RECOVERY - Each serving of AminoLean contains 5g of Essential Amino Acids, the perfect workout recovery supplement to help you recover faster and support lean muscle building. More complete than just regular BCAA powder, EAA powder contains everything your body needs to repair and build muscle
A COMPREHENSIVE, NATURAL WEIGHT MANAGEMENT SUPPLEMENT - A scientifically formulated blend of Conjugated Linoleic Acid (CLA), L-Carnitine Powder, Green Tea Extract, and Green Coffee Bean promote natural weight management to help maintain a lean physique year-round
ZERO SUGARS OR CARBS- AminoLean has 0 sugars and 0 carbs, making it an extremely clean product for any diet. Additionally, it does not contain any gluten in its ingredients.
Supplement Facts
Serving Size: 1 scoop
Servings Per Container:


Amount Per Serving
%DV*
Total Carbohydrates

Total Sugars




Vitamin C (as Ascorbic Acid)
Phosphorous (as Disodium Phosphate)
Chloride (as Sodium Chloride)
Sodium (as Disodium Phosphate, Sodium Chloride)
Amino Acid Blend:
Taurine, CarnoSyn® Beta-alanine, L-Glutamine, L-Arginine, L-Leucine, L-Citrulline, L-Isoleucine, L-Valine, L-Tyrosine, L-Histidine HCL, L-Lysine HCL, L-Phenylalanine, L-Threonine, L-Methionine
Weight Management Blend:
L-Carnitine L-Tartrate, INNOBIO® (supplying 60% Conjugated Linoleic Acid), Green Tea (Camellia sinensis)(leaf) Extract (std. to 50% EGCG), Green Coffee(Coffea robusta) (bean) Extract (std. to 50 Chlorogenic acids)
Energy and Focus Blend:
InnovaTea® Natural Caffeine 98% from Tea (Camellia sinensis), Theobromine
* Percent Daily Values are based on a 2,000 calorie diet.
** Daily Value (DV) not established




OTHER INGREDIENTS: Citric Acid, Natural & Artificial Flavors, Silica, Maltodextrin, Sucralose, Fiber Blend (Cellulose Gum, Xanthan Gum, Carrageenan), Acesulfame Potassium, FD&C Red #40
WARNING
CONTAINS MILK
***Total Caffeine from all sources is equal to 125mg per serving.
WARNING: Keep out of reach of children. Consult your physician before using this product if you are taking any medication or under a physician's care for a medical condition. Not for use for those under the age 18, women that are pregnant, trying to get pregnant, or nursing, or those that are sensitive to caffeine and beta-alanine. Do not consume caffeine from other sources while taking this product as too much caffeine may cause nervousness, irritability, sleeplessness, and occasionally, rapid heartbeat. Discontinue use two weeks prior to surgery.
ΔTHESE STATEMENTS HAVE NOT BEEN EVALUATED BY THE FOOD AND DRUG ADMINISTRATION. THIS PRODUCT IS NOT INTENDED TO DIAGNOSE, TREAT, CURE, OR PREVENT ANY DISEASE.



DIRECTIONS:
Mix 2 scoops (1 serving) of AminoLean in 8-10 oz of cold water anytime throughout the day.
RECOMMENDED USE:
For Anytime Energy & EAA's: Take 1 or more servings first thing in the morning and/or between meals.
For Pre-Workout Energy: Take 1-3 servings 20-30 minutes before training.
For Recovery & EAA's: Take 1-2 servings after training and/or between meals.
Do not exceed more than 6 scoops (3 servings) in a 4 hour period and do not exceed more than 8 scoops (4 servings) in a 24 hour period.